Holidays that Allow you to Pursue an Interest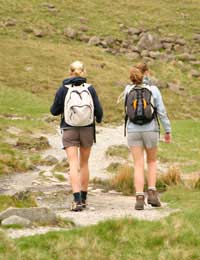 Bookings of special interest holidays are booming, according to recent research.
As we increasingly spurn the idea of spending our precious free time in a semi-comatose state in the bar or on the beach, and become more sophisticated and confident in our travelling, the traditional package holiday is falling out of favour. (One figure shows a drop of nearly a tenth in the four years up to 2006.)
Special interest travelling represents one of the most significant recent growth areas in the travel industry. Such holidays range from health and spa breaks to nature escorted tours such as opera, cycling holidays, dance, cooking or wine-tasting.
Walking and cycling trips are well-established ways of travelling and seeing more of your holiday destination in a more interesting way, and there is plenty of choice for hikers and bikers of all levels across the globe – from a gentle pedal in pampered conditions in France to a rigorous three week trek across the Himalayas.
Plenty to Choose From
But there are far more activities on offer now – from golfing to horse-riding, painting, surfing and salsa dancing. There are themed cruises focusing on Elvis Presley or gourmet cooking, with plenty of others to choose from if those don't float your boat.
If you already enjoy creative writing, or just want to learn where to start, there are a range of options, in the UK and overseas. You can go on a writing retreat, and craft your masterpiece undisturbed, or take a range of courses on everything from scriptwriting to children's fiction. It may not sound like everyone's idea of a relaxing break, but, if that's what you love, you are likely to return feeling energised and inspired, and with more to show for your time away than a rapidly fading suntan and a set of embarrassing photos.
There are many advantages to combining holidaymaking and the hobbies you love. Away from the distractions of everyday life, you have the chance to focus on your favourite pastime in a relaxed and supportive environment. Such holidays can offer the perfect chance to make headway with your chosen activity or try your hand at something new. You may surprise yourself! Most special interest holidays offer a good mix of time to spend on your hobby, tuition and time to relax.
Good for Singles
There's also the chance to meet new people. For singles, in particular, this sort of travelling gives holidaymaker's who don't know each other a shared sense of purpose. You have more than just the fact that you are single in common, since you all enjoy the same activities.
Going Holistic
You can also use your free time to focus on self-improvement, or to make a life decision - there are a range of holistic holidays on offer, promising the chance to focus on your well-being and energise yourself through a plethora of activities like yoga, meditation and alternative therapies.
Environmentally Friendly
Special interest travelling doesn't have to cost the earth. Check with your tour operator about their policy on the environment – do they recycle, source food locally and pay a fair wage if employing staff overseas? Certainly not all of these holidays involve flying, and of course walking and cycling holidays are kind to the environment.
If the environment is your passion, you can always volunteer on a conservation project, visit an eco-lodge in the rain forest or take a wildlife trip.
But these holidays are sustainable in a broader sense. They may not be for everyone, especially as they often involve substantial amounts of time in classes and at meals with people who were at least strangers at the start of the experience. But, for those willing to try something new, or with a passion to pursue, there is no better way to spend your free time.
You might also like...