Travelling Without Flying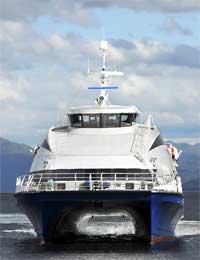 It's a familiar scene at any airport at holiday time - crowds of people in interminable queues, inching their way forwards with painful slowness before they travel in cramped aluminium tubes to their holiday destination.
The check-in queue is hardly a fun way to start your vacation, yet it is the reality for millions of us. Now a small but significant group of people is waking up to the fact that it doesn't have to be the only, or even the best, way to travel.
Slowly Does It
The 'slow movement' is catching on, and has spawned a weekly national newspaper column and a Sunday night TV programme as presenter Charley Boorman travels from Ireland to Sydney 'by any means' (other than flying, that is.) One figure claims that one in six people would like to travel without having to get on a plane. More and more are pledging to do just that – either by stopping flying completely, cutting out all unnecessary flights, avoiding internal flights wherever they travel, or limiting themselves to just one trip by plane a year.
Plenty of Choice
Holidays without air travel don't mean being confined to a day trip to Calais. The world is smaller than we think, and so much of it can be accessed by land or sea. In fact, with a bit of research and imagination, you could find yourself pretty much anywhere. There are plenty of web sites to feed you ideas – just put 'travel without flying' into any Internet search engine.
Have you thought about getting to Morocco or Madeira by train and boat, for example? (Both are perfectly possible.) Or did you know that you can be in the Slovenian Alps after travelling for just one day from the UK? Or what about a cruise, starting from Southampton, to just about anywhere?
For those with a few months and a few grand to spare, you can even travel by bus from London to Sydney, proving the sky really doesn't have to be the limit when it comes to long-distance travel.
Good for the Environment
Of course such trips are eco-friendly and low carbon - aviation is the fastest growing contributor to global warming. The amount of carbon dioxide emitted by air travel doubled between 1990 and 2004, fuelled by the boom in cut-price Internet flights. This fact is totally incompatible with the need to reduce carbon emissions by 60% by 2050.
Good for You
But, more then just being good for the environment, 'slow' travel offers a totally different travel experience. You have time to savour the local environment, and to connect with the culture you are passing through, especially if you are walking or cycling. You are not rushing from place to place cramming in as much as possible but experiencing nothing. Instead, you feel as though you are really travelling.
No-one is saying we should stop flying completely. Travel only accounts for some five per cent of all carbon emission, and a complete ban on air travel would be disastrous for tourism in many countries. But we could all do more to think before climbing aboard a plane, and to at least consider the more eco-friendly alternatives. You will almost certainly find you enjoy the journey a lot more.
You might also like...