Volunteering at Home and Abroad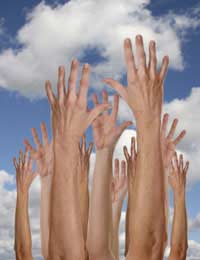 Volunteering long ago shed its 'worthy but dull', do-gooding image and no longer means spending a few hours in a charity shop each week. Instead, the sheer scale of opportunities, and the vast variety of people who volunteer, can seem bewildering. Volunteering can now take you abroad for anything from two weeks to two years, and is no longer the sole preserve of pre-university gap year teenagers or tweedy pensioners.
With people changing jobs and taking time out more frequently, and with many of us wanting more from our holidays than two weeks with a novel and a sun-lounger, the past few years have seen an explosion of so-called 'voluntourism' – trips combining volunteering and foreign travel.
In the UK
Of course, volunteering doesn't have to mean venturing far. You can just as easily make your contribution in this country. A regular commitment of just a few hours a week is all that most organisations seek.
All towns have their own organisations coordinating volunteers, or your local council or library should also be able to help. You could find yourself learning how to take calls on a telephone helpline, befriending a family or helping out at a youth club.
The benefits are obvious – that gap on your CV looks far better if you've given your time to a good cause. Equally, volunteering gives you the chance to use your skills or develop fresh ones, and meet new people. Some volunteering positions are live-in, so you get board and lodging and perhaps some pocket money in return for your efforts. For young people, in particular, it can be a way of experiencing life in a new city which they couldn't otherwise have afforded.
If you can't make a regular commitment, try an eco-holiday in this country. This can mean more than just taking an environmentally friendly break, but being fully involved in a conservation or wildlife project for a week or so.
Volunteering Abroad
For those who do want to travel abroad, there are plenty of organisations willing to relieve you of your money in return for what they promise will be the experience of a lifetime. The choice is particularly broad for pre-university gap-year students, a worldwide market which one figure put at £55bn just three years ago. But people of all ages and stages in their careers are taking gap years, and the market has responded to this demand. The growing number of eco-holidays and volunteering opportunities means that you don't even have to be away from your desk for more than a fortnight.
Such a broad range of opportunities inevitably means that people will have varying experiences. Some have been left disappointed after spending thousands on their placements. Recently, one large UK-based organisation which places long-term volunteers overseas argued that volunteering abroad can do more harm than good if it is not approached in the right way.
Communities overseas can feel invaded with people and projects they can't manage, or feel short-changed and left with little to do, and in the worst case scenarios, do more harm than good. After the 2004 tsunami, for example, anyone without a specific skill to offer was more valuable fundraising at home rather than in the affected countries, where they would be using precious resources.
Know Before You Go
To avoid the potential pitfalls, ask your questions searchingly before you get on the plane:
How will I be assessed and selected for my suitability for my placement?
What are the costs involved, and what is included in the price?
What training can you offer before I go, and what support do you offer when I am abroad?
How genuinely sustainable is the project? Will it continue after I've come home?
What exactly will I be doing? What skills will I use?
How will the project make a real difference to the local community? Is it something the people there really want and need?
What is your criteria for deciding what work you do?
Will I have the chance to talk to returned volunteers or communicate with my project before departure?
What is the proportion of time spent travelling to time spent volunteering?
I am only going to be there two weeks – can I really make a difference?
There's no doubt that volunteering can be hugely beneficial to both the target communities and volunteers. Few charities could survive without these loyal bands of supporters, home and abroad. But, with so much at stake, the potential for disappointment so great, and the prospect of causing harm rather than good very real, it pays to think out your placement with great care before you commit.
You might also like...