Climate Change: Signs in Britain Today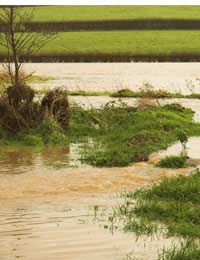 Although we cannot entirely agree on the causes or future direction of Climate Change, we are all pretty certain that our climate is changing. Flash floods, hotter winters and more erratic weather conditions are all signs of further changes to come. So for those in doubt, this article lists the visible signs of climate change that can observed daily and throughout the year.
By observing these changes scientists hope to gain an accurate image of how climate may change in the future so that all eventualities can be planned ahead for. It is also hoped that pressure can be put on the government and the public of the U.K. to take action now in order to stop a climate change catastrophe in the future.
Rising Waters
Rising waters on the coastline are hard to gauge effectively. What is certain is that the number of floods are rising by the year and that water levels are likely to rise in this way – through an accumulation of minor and major flood disasters than gradually over time. Experts warn that the Thames Barrier may not hold back waters entering the Thames Estuary in the future as water rises become more frequent. In the past few years the number of instances that the Barrier has been needed has doubled.
Rising Temperatures
Since 1998 we have seen eight of the hottest years in recorded U.K. weather history – one of them being this last year, which despite seeing an unremarkable summer, has seen a very mild winter. For many of us the rise in temperature is palpable as we feel the warmer winters in comparison to those of our childhood, when long periods under snow were the norm and not the exception.
Falling Rainfall
With rising temperatures come changing rainfall patterns, with less rain falling annually, and more rain falling in flash storms. This manifests itself in difficult gardening conditions and 'hosepipe' bans, which have been frequent since the early 1990's The MET office predict that rainfall may fall by a further 50% in the South of England in the next 40 years, yet floods and storms may increase in the North of England and in Scotland and Wales.
Snowfall
Snowfall and the melting of longstanding snow is making a dent in the skiing season in Scotland. Snow is similarly less common elsewhere in the U.K. This, of course, causes very few real problems directly, but does threaten habitats in parts of Scotland where the fauna and wildlife are adapted to snow conditions. The melting of large areas of snow will further contribute to warming.
Changes in the course of Nature
Early hatching birds and early blooming spring flowers are clear signs of climate change. In short spring starts earlier each year, whilst summer lasts longer and this has thrown off natural cycles that farmers and observers of nature would swear by. The government have begun to gauge climate change by factors such as these, which are the most reliable indicator that climate change is having a genuine effect.
With adequate information about changes, whilst we cannot avert further change, we may be able to better adapt to it, whilst helping to protect species of fauna and wildlife.
You might also like...