Eco Shopping: Go Organic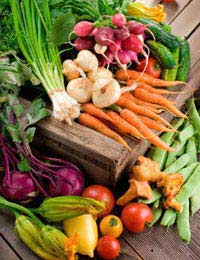 Organic food and other Organic products are enjoying a huge surge of popularity due to a number of different factors. Increasing availability, coupled with health and environmental concerns had made an Organic (or part Organic) diet viable for a large number of people.
Trying, where possible, to source primarily locally produced Organic food will ensure that there have been less carbon emissions emitted in the production process. It will also ensure that harmful pesticides, which can contaminate water supplies and damage eco systems, are not used. Many people believe Organic food to also provide for a more healthy lifestyle, although this is debated and has not been conclusively proven.
The Organic food industry is the fastest growing sector of the food industry itself across the world in both developed and developing countries and looks set to grow amidst public campaigning concerning animal welfare and climate change issues (such as the Channel 4 television series hosted by Jamie Oliver which pointed out the cruelty and lack of regard for human health inherent in the battery farming chickens).
Joining the Organic Revolution
More and more people are demanding Organic food, as a result of concerns about lifestyle and the environment. In recent years supermarkets have responded to this trend, increasing week on week their Organic ranges. Whilst this is positive, it must be noted that some of them (disregarding Waitrose and Fresh and Wild, who are both committed to a thoroughly ethical outlook) are doing this in tandem with a policy that favours ever more intensive farming. This has the benefit of offering the consumer what they want, but one has to be careful not that you do not fall into the trap of buying just one or two Organic products whilst supplementing your shopping list with battery reared chicken, for example.
Shopping Organically demands vigilance, and whilst it is a popular choice, some work is needed in order to ensure that you are not giving to the environment with one hand, only to take away with the other!
Organic food can be identified by its labelling, and all organic food must contain at least 95% of organic ingredients. If 70% to 95% of ingredients are Organic those ingredients can be listed as so in the list of ingredients. Labels such as the Soil Association Certificate and the DEFRA label will further help to certify a product as Organic, and companies must follow stringent guidelines to warrant having these certifications.
Farmers markets provide a great alternative to supermarkets and often sell Organically produced food. The ethically minded shopper may prefer to source produce direct from the farmer in this way, thus taking support away from the big stores that ultimately encourage non Organic food production.
Organic food is more expensive than GM or other food products as the farming processes entail more physical labour and lower crop yields. For this reason it is not possible for people to eat a purely organic diet –very little helps, so try what you can! For the true enthusiast you can go so far as to wear Organically sourced and manufactured clothes!
You might also like...