Buying Local Seasonable Food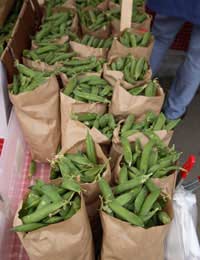 Buying organic produce is one way to support a sustainable environment. However, with around 70% of organic food being currently imported from abroad, it may be necessary to take further steps to ensure that the food we eat is environmentally friendly. Importing food from abroad on planes, ships and lorries contributes to the build up of harmful carbon emissions. One way to reduce the build up of these emissions is not only to shop locally, but also to buy locally produced food, at small local shops, farmers markets, or directly from farms.
There are several benefits to buying locally produced food:
Food miles: Food miles denote the total distance travelled between food being grown and it appearing on a plate ready for eating. A Guardian newspaper online investigation found that of 20 fresh items bought in a supermarket, each had, on average, travelled 5,000 miles. A key element to leading a sustainable lifestyle lies in reducing as far as possible the amount of food miles travelled across your complete diet.
Community Awareness: Shopping locally helps to foster a community spirit, together with an awareness of local farming practice, tradition and the landscape around us.
Encourages local growth: Shopping locally encourages local economic development and growth, which can only benefit you in turn.
Frees up time: Shopping locally frees up time, leaving you to either, shop at a more relaxed pace, or spend time relaxing or pursuing leisure activities.
Buying locally produced organic food will, by necessity, entail buying seasonal products. This in itself is positive and will give you more of an understanding of the earth's natural cycle. Eating seasonal food will often enable you to include more variety in your diet. During the winter, for example, you will be liable to experiment with often overlooked vegetables, such as pumpkins, turnips, Swedes, brussel sprouts etc. In doing this you are likely to discover new flavours and cooking techniques that you may otherwise have overlooked.
Government Policy
As part of the governments wider policy to reduce carbon emissions a Defra (Department for environment, Food and Rural Affairs) report aims for a reduction of carbon emissions produced during food transportation by 20% before 2010. This will, in part, involve the promotion of local and seasonal food as a consumer option. The report entitled 'The validity of Food Miles as an Indicator of Sustainable Development' (2005) also questioned whether food miles were the best indicator of the damage being done to the environment: Some forms of transport travel relatively few miles compared to their enormous carbon output (such as sea freight). In light of this Defra suggest that a campaign to run food transport vehicles on sustainable fuels will be necessary in tandem with the encouragement of locally grown and sold produce.
You might also like...