Making Your Own Healthy Drinks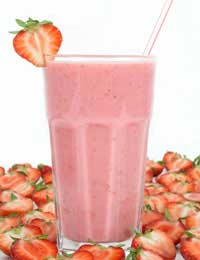 Making your own drinks is a fun, low cost thing to do with family or friends and avoids the packaging that comes with commercial drinks.
It also means you avoid artificial ingredients and you know exactly what you're drinking!
For example, you can make a healthy smoothie to reduce the chance of catching that cold that everyone seems to be getting or you could try making your own herbal teas.
If you find you get a taste for making your own, you can start to grow the herbs needed for other flavoured teas in your garden.
Smoothies
Producing your own drinks doesn't require a long shopping list. You'll be surprised at what you can accomplish with just a few pieces of fruit!
Most people use milk, nut or seed milk, yoghurt or fresh juice (such as orange, carrot or apple juice) as a base for smoothies. You can even add a touch of ice cream – but try to stick to a low-fat or non-fat version unless it's for a special occasion.
Another idea is to use natural sweeteners such as dates, raisins or honey, instead of adding sugar.
You can follow set recipes or even better, just grab some of your favourite fruits and juice and mix them together - most of the time you'll be on to a winner. One of my favourite ingredients is ground cinnamon, which gives your drink a great kick but you can also try ground nutmeg, grated coconut or vanilla extract. The combinations really are endless.
If you're feeling under the weather, you could add a 500/1000mg dissolvable vitamin C tablet, which will help to boost your immune system at the same time as giving your body some fresh, energy-boosting fruit.
It's also worth adding a teaspoon of fresh ginger as this is full of anti-oxidants and will give your smoothie a nice spicy 'bite'.
Blueberry Madness Smoothie
You will need:
1 teacup of fresh or frozen blueberries
Half a banana
Half a teacup of sliced mango
Half a teacup of milk
Simply blend together all the ingredients and enjoy! The mango and blueberries are full of antibiotic and antiviral goodness and make this a healthy, low calorie and delicious smoothie. (If using Vitamin C, add it to your mixture just before drinking.)
Nuts are a great source of energy and it has been proven that a handful of nuts a day can speed up your metabolism and help you to lose weight. So why not add some cashew, pecan or peanuts to give your smoothie an extra thick texture once blended?
Herbal tea is also becoming an increasingly popular drink, but rather than spending a few pounds each week on tea bags, why not make your own healthy tea to suit your needs?
Nettle tea, for example, is very easy to make and you can use nettles found in your own garden – or the nearest patch of rough ground. Nettles contain iron and therefore help to combat anaemia and they are also a great liver tonic and can benefit the digestive system.
Simple Nettle Tea
You will need: Leaves from a few stalks (or 25g of dried) stinging nettle leaves
Pick young, new nettles if possible since they become bitter with age. Remember to wear gloves for picking and wash the nettles carefully to remove any soil. Put into a pan and cover with boiling water. Leave to boil until the water starts to turn green, then remove the leaves. (Leaving them in for longer will produce a stronger taste, so experiment to find the strength you prefer. It's important that the nettles are boiled for long enough to go soggy or wilt – otherwise they will still retain their sting!)
Strain the liquid and if you find it too bitter, add sugar or honey to sweeten. Another, healthier option is to add sliced lemons – which can also cause a magical colour change! You could also try adding three or four dandelion leaves to the pan when cooking. (Pick the leaves from young plants, before flowering.)
Ginger Tea
Ginger can be used to treat a variety of ailments such as sore throats, indigestion, colds and flu and has a strong, spicy taste. This is one of my favourite drinks and if you are brave enough, you can make it even better by adding a little red chilli for a stronger kick.
Ingredients:
Ginger root - two inches
4 cups of water
Honey and lemon (optional)
Peel and slice the ginger into thin slices. Bring water to the boil, add the slices of ginger, cover and simmer for 15-20 minutes. Strain the tea and then add lemon or honey if required. (You can also enjoy this cold and it is very refreshing in the summer.)
If you are using it to help combat a sore throat, active Manuka honey is the best option although it is pricier than ordinary honey!
You might also like...