Sustainable Water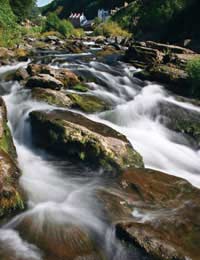 With two fifths of the worlds populace experiencing severe water shortages, and the U.K. experiencing the highest number of drought orders ever, in the period 1990 and 2006, it appears global warming is already having an adverse affect on our water supplies. A continued and worsening shortage of water could contribute to crop failures, starvation and even warfare, as nations compete for control of a scarce resource.
It is now felt by many observers that the speed of climate change has been vastly underestimated so far. For the first time, snow and ice in Siberia began to diminish measurably. Whilst we already felt that the polar ice caps were melting, it has only recently occurred to scientists that, as the polar ice caps and snow in Siberia reflect the suns ray (because they are white), any diminishment in them will rapidly accelerate further diminishment and further global warming. This means that far from causing arise in sea levels, the melting of ice blankets could actually further diminish world water supplies.
Whilst this discovery has led to the proposal that we float huge mirrors in the sea and sky, to act like ice caps, and reflect the sun, hence possibly slowing global warming, it is possible at this stage that such a strategy would never get adequate funding, and may not even work! At present, we must accept that global warming is real and the best steps that we can't take to slow it, and to therefore protect water supplies, involve reducing energy consumption. Further to this we can take steps to save water at home and work (see related article) and put pressure on Government and supply companies to make better use of the water we have: Water shortages are generally in the South of England and it may be possible to redirect water from the North via existing canals.
ACP-EU Water Facility
In 2004 the EU contributed 500 million euros to the ACP-EU Water Facility, to contribute towards initiatives to secure and enhance the supply of clean water in Africa, the Caribbean and the Pacific region. This move acknowledged the importance of maintaining a sustainable water supply, which is essential to the welfare of countries in the developing world. Whilst water is scarce it is important to focus on areas that experience sever drought, and try to develop a secure water supply. This both improves the health of the population in that region, and takes the pressure off neighbouring regions, who themselves may be subject to water shortages. Monitoring in this way may be helpful in preventing widespread shortages in the future across the world.
The E.U. have set out a number of guidelines that, in turn, have impacted on U.K. domestic water policy (see 'Saving Water', related article). Although this is helpful, a system similar to that used to curb business use of electricity (by taxing energy consumption) may be necessary if companies are to change their habits. Similarly, water price increases in general may temper household use.
Developing sustainable water supplies is one of the most important challenges facing humanity. However, it must be noted that focusing on the maintenance of water supplies itself is akin to plugging a leak in a pipe with your thumb, but neglecting to turn off the water at its source, in order to carry out the necessary repairs: The source of water shortages is global warming and our excessive reliance on fuels that produce carbon dioxide. Attempts to conserve water must operate in tandem with a reduction in the use of fossil fuels.
You might also like...