Reducing Travel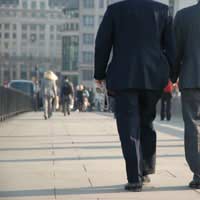 It is widely accepted that reducing the need to travel is essential to helping reduce the build up of harmful carbon emissions. Whilst biofuels, made from plant oils, and LPG (Liquid Petroleum Gas) are considerably less damaging to the environment than petrol and diesel, they are still harmful, and ultimately the responsibility rests with the individual to reduce the need for car and air travel (see related article) wherever possible.
Whilst government targets to reduce carbon emissions by 12.5% of their 1990 levels by 2010 are online, emissions from transport have risen. By 2020, transport will be the only sector that will not have reduced fuel emissions. This has is largely due to unnecessary car and plane journeys.
Holiday Travel
The 'Travel Foundation', an independent charity, recently worked with the government to highlight was in which tourism could be made more environmentally sustainable. Key to this is a consideration of the ways in which we choose to travel on holiday. Taking long haul flights, when closer destinations would have been perfectly adequate and taking flights, where train or coach journeys might other wise have sufficed are bad habits which, if continued, will have a detrimental effect on the environment. Holidays in the U.K. and in mainland Europe, where the destination can be reached by rail are the environmentally soundest options.
Travel to Work
Walking and Cycling to work are the best options (see related articles). If this is not possible, consider working closer to home, or moving closer to work. The culture of commuting over large distances to work that has evolved in the U.K. is damaging, wasteful and unnecessary. Working closer to home will save money and may well reduce stress levels that build up during commuting.
Driving for Leisure
The leisurely Sunday or early evening drive may be nice way to wind down (though logic would dictate otherwise when so many of our roads are congested) but is damaging to the environment as well as a being a lifestyle habit that cannot be sustained, if we are to halt damage to the environment. Television programmes that wilfully promote driving for leisure (and at high-speed, in huge cars) may make for good watching, but will be as extinct as the dinosaurs in a few years time. The environment will radically decline if people are not prepared to surrender unnecessary damaging luxuries.
Government Policy
Whilst the government have specifically identified the need to tackle the problem of travel, environmental pressure groups warn that not enough is being done to curb road building and directly reduce the need to travel. The Governments 'Ten Year Transport Plan' (2000) has been heavily criticised by the Campaign to Protect Rural England (CPRE) for not doing enough to protect the countryside against road building schemes. The Liberal Democrat Party recently criticised the government for not fully calculating the detrimental effect that its transport policy will have on the environment. It seems that the Governments road building policy is in direct conflict with everything it aims to achieve in terms of environmental sustainability. In order to challenge this, largely industry led stance, it is necessary for consumers to demonstrate their reluctance to support such a policy by buying local produce, reducing their own transport needs, and lobbying their local M.P.s.
You might also like...