How To Be Sustainable By Not Shopping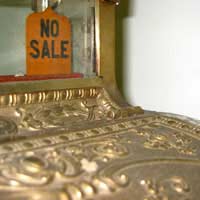 The production and consumption of goods involves, inevitably, the harmful burning of fossil fuels. International agreements, enshrined in law ('The Kyoto Protocol'), commit most countries in the world to cut carbon emissions in the knowledge that doing so will contribute to a significantly healthier environment worldwide.
It is recognised that such a move is at odds with industry, which is reliant on fossil fuels for profit. This is, in effect, tantamount to arguing that large business interests are, at least in part, responsible for the deterioration of the environment and climate change. Certainly this link is clear enough; however, if we are to confront the threat to our environment that is posed by industrial practice we need to take the burden of responsibility on ourselves, rather than merely pointing the finger at others.
Business interests are dependent on their customers, and if we as customers go shopping responsibly, companies will gradually be pushed toward practicing environmentally sound policies. Whilst this may normally involve boycotting certain products, whilst buying others, it is worth considering another more radical option.
In light of the fact that the desire to produce and consume is so great that it is, in itself, enough to sustain a system that is currently environmentally unsustainable, perhaps we need to address this desire head on… lets just stop being so greedy!An option that is open to the consumer when presented with this 'more environmentally friendly' product over this 'environmentally unfriendly product' is to simply buy neither of them! It is highly likely that you will somehow inadvertently burn fossil fuel whichever product you buy, through, for example, burning fuels on the way to go shopping!
When Not To Go Shopping
There are times, undoubtedly, when you have to make a purchase - several times daily. However, there are many more times when that purchase is unnecessary and, thus, damaging to the environment and your wallet.
There are certain products, whose impact on the environment is undoubtedly negative, that we should immediately stop buying, if possible, such as:
Batteries
Chemical Pesticides and foods made using them.
Computers
Conventional Light bulbs
Mobile Phones
Petrol and Diesel
Petrol and Diesel powered vehicles
Products with foam packaging
Products with lots of packaging
Tumble Dryers
Virgin Wood Products (wood from newly felled trees).
Some of these products are more difficult to refrain from buying than others, whilst some can be removed from your shopping list altogether (batteries, chemicals, conventional light bulbs, petrol and diesel powered vehicles, products with excessive and/or damaging packaging, tumble dryers). Arguably, it is possible to live without buying any of the above, but generally most of us will need computer and mobile phone upgrades regularly. However, it is questionable whether we need to upgrade them as often as we do. Rather than buying a new computer system, it is possible to make minor changes to the software and hardware in your existing one. If your mobile phone works, then why change it at all!
Strategies For Sustainable Shopping
Buying less is really a matter of personal discretion and it is a good idea to come up with a list of things that you buy over the course of the week and then make a plan to stop buying, say, 5-10% of those items the following week. A 10% drop in shopping spending across the western world would have a massive positive effect on the environment. Of course, this would have a detrimental effect on the economy if it happened overnight. However, this is not a cause for concern as it will not happen overnight and as it occurs gradually industry will adapt to consumer trends and develop more sustainable ecologically sound products and less pushy marketing techniques. If we start buying less, industry will be moved to start producing better quality goods that last longer.
Another strategy is to do absolutely no shopping for the whole of one designated day a week or month. So long as you don't compensate this by consuming more on another day (and there may be a tendency to 'overcompensate') this radically reduce your expenditure and waste. On November 25th 2006 the UK had a national 'Buy Nothing Day' that aimed to raise awareness of the need to consume less.
You might also like...