How to Make Your Own Cleaning Materials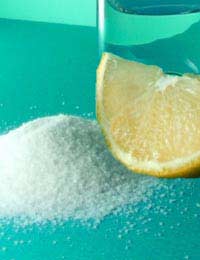 If you're tired of forking out for a bewildering array of different cleaning products, then why not try your hand at making your very own cleaning materials?
These days we are bombarded by TV advertising for the latest cleaning product – usually with promises that it will clean like nothing you've used before. However, a huge range of products still rely on the same basic ingredients and often there is little to choose between them.
By making your own, you can incorporate natural ingredients - so you'll be helping the environment by cutting down on chemical use – and you'll free up cupboard space currently occupied by all the sprays, bottles and tins.
So why not try out some of our traditional, homemade cleaning products? You might well be surprised by the effectiveness of many compared with shop-bought products.
Easy Ingredients
In our recipes, two main ingredients which will pop up again and again are:White vinegar (this is mildly acidic so it's very good at tackling soap scum and hard water marks, but at the same time it is gentle enough to use on wood.) If you already have some at home, you can use white wine vinegar but this is a more expensive option. (Don't use malt vinegar or your house will smell like fish and chips for a good time afterwards!)
Baking soda (it is very abrasive so it is a great substitute for shop-bought scouring powders and is also a good deodoriser.)
Lemon and olive oil are also great natural cleaners. The citric acid in lemon acts like bleach, also tackles grease and deodorises. Olive oil is an excellent furniture polish.Tip: The cheapest types work well.
Next Time You Need to Dust the House…..
Mix together 1 cup of water and 1 cup of vinegar and add two drops of lemon oil.Damp dusting works very well and is a good way to ensure dust particles are picked up instead of left floating around.
How Do You Keep Your Clothes Nice and Soft?
Add a cup of undiluted white vinegar instead of fabric softener to the wash. It is great for softening clothes and also helps to stop detergent residue forming inside your machine.
Need an Easy and Inexpensive Way to Clean Your Windows Inside and Out?
Add 3 tablespoons of vinegar to 3 litres of water- this will make sufficient for all your windows! Mix the two and then apply to window panes. An old spray bottle will come in very handy for this job.Scrunched up newspaper is excellent for drying the glass. It gives a great shine and rids you of streaky lines.
General Household Cleaning
Mix together a cup of white vinegar and a cup of water and you have a cleaning product which can be used on floors, kitchen worktops and toilet exterior etc.
Use Baking Soda (Bicarbonate of soda)to get rid of soap scum!
Apply baking soda as a thick paste to dirty areas, leave for 10-15 minutes then scrub with a wet sponge until clean. (Note: baking powder is a different product)
Cleaning Dirty Pots and Pans That Have Tough Food Residue or Burns
Soak the pans in boiling water, adding 2 tablespoons of baking soda. Leave until the residue has loosened, then wash with a sponge. If you have any problems, use an abrasive sponge for tougher stains.
Freshen Smelly Carpets!
Use ¾ of a cup of baking soda2 tablespoons of corn starch¼ cup of talcum powder (perfumed)Sprinkle this recipe mixture all over the carpet and main areas of odours. Leave for 10-15 minutes then vacuum away.
An Alternative to Pouring Shop-bought Toilet Cleaner Down Your Toilet Every Week
Pour 8 tablespoons of baking soda around the bowl and leave overnight.The following morning you can put more baking soda onto a cloth and clean the toilet seat and then wipe clean with a wet cloth.
Ever Wondered What Your Floorboards Would Look Like if They Shined Like New Again?
A mixture of one part olive oil and one part lemon juice will make your floors gleam. Spray onto wood and then polish into the wood using a dry cloth. Get ready to smile!
An Alternative to Chemical Sink/Bath Drain Cleaners
Pour 2-3 heaped tablespoons of baking soda into the plughole – then pour on white vinegar. (Watch for the mini volcano as it bubbles up – and then leave for 1 hour to work its magic.)
By using ordinary household items for cleaning whenever possible, you reduce the need for manufacturing, cut down on chemical use – and you can save some cash for your next holiday!
There are lots of other ways you can reduce your purchasing – such as:
Tearing up old clothes to use instead of buying dusters
Saving old toothbrushes to use to clean around the base of kitchen taps and get into those small crevices/ tile grout in the bathroom
Hanging out towels on a frosty day to soften instead of using extra fabric softener (It really works!)
You might also like...