Protect Against Hazardous Chemicals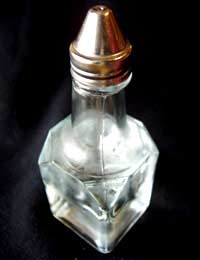 Throughout the house there are a wide range of hazardous chemicals to be found, containing volatile organic compounds (VOC's) that release harmful fumes. Many of these chemicals are harmful to the individual. Others can have a profoundly damaging effect on the environment immediately and/or over time. Bare in mind that many household products are tested for their safety on animals; the point being that if they do not harm animals they will not harm humans. It follows, therefore, that if they are harmful to humans they will be damaging to wildlife, pets and plants!
A range of alternatives are available and it is worth considering that a lot of old fashioned cleaning methods (for example, using vinegar and newspaper to clean your windows) are not only as effective as the chemical equivalent, but environmentally sound too.
Before considering some examples, here are a list of chemical products to be avoided, with health hazards and chemicals to look out for in bold type:
Kitchen: multi surface cleaners (artificial musks phtalates - liver/kidney damage); washing powder (artificial musks - liver damage); bleach (sodium hypochlorite - irritant); glass cleaner (ammonia - coughing, respiratory problems); furniture and floor polish (nitrobenzene - breathing difficulty, sickness).

Bathroom: Hairspray and perfume (artificial musks/phtalates - liver/kidney damage), deodorants, shaving foam (organatins/artificial musks/phtalates - liver/kidney damage, birth defects), toilet cleaners (hydrochloric acid - irritant, respiratory problems, damage to central nervous system).
Bedroom and Living areas: Bed linen, mattresses (Brominated Flame Retardants - damage to development of baby in womb) household furniture, (Brominated Flame Retardants, as above, organitins - damage to liver and kidney).
Garage/shed: Paint and paint remover (methylene chloride, benzine, mineral spirits - sickness, cancer in animals and humans), petrol (petroleum hydrocarbons - cancer).
How to Avoid
Labelling can be confusing and companies are not obligated to disclose the effects of many harmful substances. To be on the safe side it is best either to use an environmentally, irritant free range of products, or to use simple effective alternatives.
A product will carry a warning label if it is: harmful; an irritant; highly flammable or corrosive. If a label contains any of these warnings you may wish to seek an alternative. For a little extra in cost it is possible to buy non-hazardous house paints, for example, which are specifically labelled as such by a trustworthy manufacturer. There is, in fact, no reason why you would need to stock any of the above chemicals; many safe products that are already stocked in the home can be used for cleaning.
Household Products; Alternatives
See below, some basic cost effective alternatives to chemical cleaners that can be easily found in your kitchen.
Glass and Window Cleaner: As stated above, a dash of vinegar added to water and applied with newspaper makes an effective glass cleaner. Use vinegar neat for stubborn stains.
Wooden surfaces/Furniture: Neat olive oil makes a great furniture polish. Wipe clean afterwards to remove any excess.
Multi Surface Cleaner: Bicarbonate soda mixed with vinegar for stubborn stains, or water for general cleaning is both potent and safe. Lemon juice is also an effective multi purpose cleaner.
Tiles and Floors: Vinegar can also be used to clean tiles and floors; use more vinegar for more difficult surfaces.
If you can put it's edible, it will generally be safe for the environment!
In the interest of your own health, the health of friends and family and the safety of the wider environment simple measures can be taken to reduce or eradicate the presence of harmful chemicals around the home.
You might also like...