Recycling at Home: How to Slim your Bin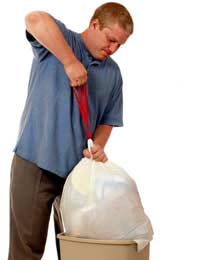 For the sake of the planet, it is important that we all learn how to reduce waste, produce less waste and put less in the bin, and recycle more, - all these simple actions will help us protect and respect our environment.
Refuse: Basic Steps in Recycling
The first effort to slim your bin is to try to refuse as much packaging as possible. This gets harder and harder, as nearly everything we buy, be it fruit or vegetables, gifts or simple everyday products, comes wrapped in packaging. But at the end of the day, packaging of all sorts, either plastic paper or cardboard, becomes our waste and our rubbish.
At the end of the rubbish cycle, sitting in a landfill site, perhaps for hundreds or thousands of years, today's everyday waste eventually becomes pollution - of the air, or water, or soil. This pollution is a stain upon the environment, damaging it unnecessarily. So, armed with this knowledge, it is imperative that as individuals and as a community, we all aim for pollution prevention, by recycling, and refusing, as much as we can.
Reuse: Further Steps in Recycling
Reusing the everyday objects that the things we buy to use and eat, such as the tins of sardines or tuna, or the glass jars that jams and pickles are sold in; is an ancient art, still practised by older members of the community. To reuse a jar, or a tin, or an envelope to write a list on, or for a gardener to grow a seed in a washed-out yogurt pot, is a sensible and common sense form of recycling.
To think of different ways to reuse the items that come into our houses and our lives, such as paper, card, tin foil, Christmas cards or padded envelopes, is an art and a worthwhile skill. Human ingenuity in reusing packaging items often results in fantastic art forms, as well as pollution prevention.
Composting: Turning Waste into Soil Nutrients
Composting is the simple act of allowing raw food scraps, such as banana skins, potato peelings and the tops and tails of carrots, to decompose into nutrient for the soil. The process works with the aid of worms and naturally occurring bacteria, in addition to heat and light.
This is a wonderful, natural process, that allows the householder to easily reduce their waste, reducing pollution, and reusing waste products. It has been said that up to 40% of household waste, thrown out weekly in the bin, is made up of compostable materials, such as raw food scraps, coffee grounds teabags. Other materials, such as brown cardboard and some paper, can also be composted, as well as cut grass, flowers, and garden waste such as clippings, leaves and weeds.
Slimming the Bin: Recycling and Reusing Our Waste
These suggestions give some of the ways that individuals and family members can reduce their weekly waste, and aim at reducing the amount of rubbish produced. Other ways include checking with the local Council to see what can be recycled by them in the local area: for instance some plastics cannot be recycled, so in this case, its best to avoid buying and using such materials.
Most Councils in the UK now operate highly efficient recycling policies, and will collect from households materials sorted into recyclable categories: cardboard and green waste, glass bottles, tin cans and some clean aluminium foil; plastics, and of course newspapers.
You might also like...