How do I Get Rid of...?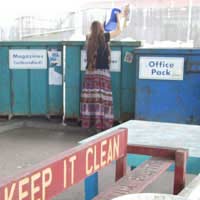 Although there are provisions for recycling and reusing a wide range of goods, many household items that could cause damage to the environment if not disposed of carefully require initiative and, occasionally, creative ingenuity. Many people who begin to recycle just basic household items, such as paper and plastic, soon develop awareness for environmental sustainability and feel the desire to dispose of their goods in an ecologically sound way. Household waste items that may be difficult to recycle include:
Batteries
Clothes
Computers
Engine Oil
Ink Cartridges
Fabric
Furniture
Paints and Chemicals
Refrigerators
Washing Machines
Greenpeace, in conjunction with other pressure groups, institutions and business interests, advocate a policy of 'Zero Waste'. The Zero Waste campaign promotes the redesign of goods in tandem with the implementation of new recycling methods, so that both incineration and landfill sights are eradicated by 2020. Until this or another workable overhaul of the systems of production and waste disposal we use is implemented, it will be necessary for the conscientious recycler to go that extra mile in order to protect the environment.
It is possible that local charities, councils or ecological pressure groups will provide facilities for awkward household goods to be recycled or reused. Many charities also accept goods for redistribution. Some towns have a 'Reuse and Recycle Centre' which may be able to help with any of the items listed below.
Mobile Phones, Computers, Computer Ink Cartridges
There are many schemes in operation to help people recycle their mobile phones. Charities such as Oxfam accept mobile phones, which they then sell on for reuse.
Computers are similarly easy to pass on, and it is generally the case that if something is still in working order and could be of help to someone, somewhere, you will have no trouble finding a home for it. This is a positive way to avoid dumping goods in landfill. However, it does not address the issue of what will eventually happen to that product when it is finally dumped! The long-term importance of pushing forward a scheme such as 'Zero Waste' cannot be understated.
Many charities also accept computer ink cartridges. SCOPE, Cancer Research and Help the Aged are just three examples.
Batteries, Engine Oil, Paint and Chemicals
Paint can be redistributed and a number of schemes aimed at matching up people who need paint with people who have paint to dispose of operate throughout London.
Engine oil and chemicals are harder to get rid of, yet it is essential they are disposed of carefully; they can cause direct and immediate harm if disposed of incorrectly. To find an oil recycling bank or chemical processing plant perform an internet search, or contact your local borough council for advice. Many private companies will dispose of your chemical waste and oil for a fee; however, it is worth shopping around as some local authorities now offer comprehensive recycling services.
Batteries are a particular recycling problem as so many of them are disposed of yearly whilst so few facilities exist for battery reprocessing in Britain. There have been EU directives in place since 1988 that encourage the responsible disposal of batteries. In May 2006 a new batteries directive was issued that will be enshrined in law within the next two years. Under the directive 25% of household batteries in the UK will have to be recycled. Such a target is likely to encourage local councils to provide doorstep collection for batteries, whilst an overall prohibition on car batteries being dumped in landfills will make their collection inevitable, either from home or from commercial garages. For the moment, if your local council does not collect, you may have to pay for them to be collected. Failing this it is worth investing for the time being in recycled batteries, or solar cells, whilst holding on to your existing waste batteries and either disposing them in a borough where they are recycled, or disposing of them (if you can wait) when your borough (inevitably) takes the initiative!
Recycling White Goods
White goods can be recycled as they are largely made of metal. However their size makes collection awkward. Many Councils will collect you washing machine, freezer, dishwasher or refrigerator either free, or for a reasonable cost. Some companies will collect your old washing machine when you buy a new one - a currently debated EUdirective (Waste Electrical and Electronic Equipment (WEEE) Directive 2002/96/EC and 2003/108/EC) is considering making this compulsory, with UK government backing.
Be Creative
Finally, there are a myriad of uses that old household items can be put to. Many artists use 'reclaimed' materials and if you are of a creative bent it may be worth considering doing the same. If you can at all help it, it is best to avoid disposing of anything at all. A touch of paint can do wonders for old furniture, whilst fabric and clothes can be spruced up with accessories or dyes.
You might also like...