Is Nuclear Power the Way Forward?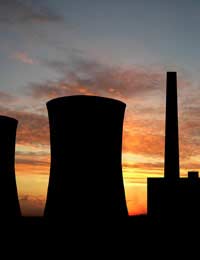 A debate over the pros and cons of using nuclear power had raged ever since nuclear power stations were first used in the 1950's. Well documented nuclear accidents such as the Chernobyl disaster in 1986 have done much to damage the reputation of nuclear power, although many see it as the most viable alternative to both fossil fuels and solar, tide and wind power.
With a new generation of nuclear reactors planned in the U.K. over the next few decades and with many developing countries vying for their own nuclear power capability (much to the dismay of those who believe that it can only lead to the proliferation of nuclear weapons) the debate had reached heightened proportions unseen since the 1980's when CND (the Campaign for Nuclear Disarmament) were a household name. Here we look at the debate.
Pros
Whichever way we look at it the UK faces an energy crisis. With many of our coal fired power stations becoming obsolete in the near future and the vast majority of our Nuclear Power stations being up for renewal by 2023 we have to find a new alternative fast. If we add to that the pressure from international agreements both present and future to cut carbon emissions we can see that building a new generation of efficient tried and tested carbon free nuclear power stations becomes a very appealing proposition.
Nuclear power creates significantly less carbon that fossil fuel systems and could be a major contributor to maintaining a healthy environment. It will also make the U.K. less dependent on other countries for importing power, as it now unfortunately is. Our current dependence on imported energy makes us vulnerable to the demands of other countries.
Nuclear power finally acts a solid base upon which we can build our network of fuel sources. Right now it is considered too early in the research stages for us to rely solely on wind, tidal and solar power. Whilst these sources may in time be adequate for creating large amounts of energy, until this is the case nuclear power provide the rock upon which we can find a good balance of varied sustainable sources.
Cons
People point to the health risks and the dangers of nuclear power, as well as the links it has with the proliferation of nuclear weapons. With regard to the first of the former two concerns, there is no proof that a normal safely operating power station causes illness, although many campaigners argue that high concentrations of childhood leukaemia near the Sellafield site may be concordant with the proximity of the sufferers to the site.
With regard to dangers, an overheating reactor could be catastrophic, as seen in Chernobyl, and before that at Three Mile Island, in the U.S.A where some people claim it has caused heightened risks of Cancer in areas downwind from the island. It must be noted that no such accident has ever occurred in the U.K. or in France, where virtually all of their energy comes from Nuclear reactors.
The new generation of reactors have extra safety measures planned, and are unlikely to prove dangerous – although as far as risks go, the potential for catastrophe is higher with nuclear power than with any other source. Certain elements if the public will never be swayed on this one.
With regard to the final point, nuclear power in the U.K. is not likely to lead to the development of rogue nuclear weapons, clearly. However, in using nuclear power we set an example and simultaneously make it harder to refuse the demands of countries such as Iran for their own nuclear power stations. Iran having nuclear power may lead to them building nuclear weapons, it certainly may lead to calls for their invasion by the U.S. administration. Responsibly, in this case, we perhaps should leave nuclear power alone altogether.
Finally, there is a worry as to how we might dispose of highly toxic nuclear waste. However, the new reactors will produce much less waste than the existing ones, and there is no reason to believe that it will be held dangerously when we consider that we have had no problems from waste yet.
Conclusion
So, do the Pros out weigh the Cons? It really is a matter of opinion, though we might ruminate that at this point there possibly isn't much of an alternative unless we are to really press ahead with wind power. At the moment, our best case scenario is that a new nuclear programme will exist alongside wind and tidal power, with the latter two forms being increased to gradually take over from nuclear power when those stations become themselves obsolete.
You might also like...