Marine Renewable Energy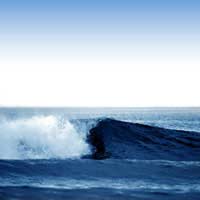 Wave Power, Tidal Power and Hydroelectric power are ways in which naturally sustainable water flows can be harnessed to produce electricity. Whilst Wave and Tidal power (referred to as 'marine renewable' energies) could play a major part in supplying energy to the U.K. as a whole, hydroelectric energy can be a useful source for home energy supplies, providing you have the resources (see related article).
Whilst hydro-electric power is in use on a medium scale, supplying the national grid with electricity in Scotland and Wales, it is not considered an area that could be further developed as it depends on the existence of large waterfalls, of which there are few in the U.K.
Marine Renewable Energy in the U.K. and Europe
Marine Renewable energy is at an early stage of development in the U.K. yet we are ideally placed to take advantage of the sea as a resource. Together with wind power, wave and tidal energy could generate a significant proportion of the U.K.s energy supply.
Tidal Power is created by harnessing the natural movement of tides, caused by the gravitational pull of the Moon and the Sun upon the Seas. Tidal energy is at its most efficient where the height of the tide, mass of water being moved, and the speed of its movement are all at their optimum level. Given the right conditions a barrage can be created to capture the ebb and flow of the tides, which creates movement and generates electricity. Alternatively a device suspended above a low tide can be moved by a rising tide to generate power.
Wave Power is created by utilising the natural movement of sea waves to power a generator. A number of factors affect the efficiency of a wave generator including, the frequency and height of wave. Although wave technology is in the early developmental stage, there are small working projects in Europe including 'Limpet', a commercial wave energy system located off the Scottish coast - the world's first grid connected wave power system. Limpet channels waves into an enclosed 'box', the flow of the waves create, in turn, a flow of compressed air that is used to power a generator.
The government intend to implement a 'Marine Bill', which is currently in the planning stages. The bill would set in motion a government programme aimed at the development of Marine Renewable Energy to a level where it could contribute to reaching targets for renewable energy; the government aims to have 20% of all our energy coming from renewable sources by 2020. The bill will also address further environmental issues amid concerns that Marine Energy could damage the seascape and natural habit of sea birds, creatures and vegetation. In Scotland a project named 'Stingray' got underway in 2002, incorporating underwater, offshore turbines, similar to wind turbines, with the propeller-like mechanism moved by tidal flows. This is part of an ambitious project to have 40% of Scotland's energy coming from renewable sources by 2020.
With commendable projects such as these underway, one might well ask why a similarly ambitious plan could not be implements throughout the U.K. given the huge resources available. Tidal energy could certainly be central to realising such targets, and would be preferable to the building of a new generation of nuclear power stations, which the government is now considering.
Wave energy is not considered to be economically viable yet and there has been little research into wave energy since the early 1980's. However, scientific calculations suggest that wave energy would be even more efficient than tidal energy if it could be adequately harnessed at a reasonable start-up cost.
A Tidal Power plant has been in operation in La Rance, France, since 1967. There is also a small experimental project underway in Kislaya Guba, Russia.
You might also like...