Wind Energy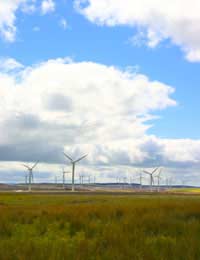 Wind Energy, like Solar Energy is fully sustainable, being generated by natural wind flows, which in the U.K. are reliable enough to guarantee a stable, near constant supply of energy. Wind Power can be easily set up, either at home (see related article) or on a larger scale, by energy suppliers keen to meet government targets to reduce carbon emissions that are produced by conventional power stations.
Wind farms and small scale generators often meet with opposition from local people who resent having them stationed near their homes, as, they argue, they are visually imposing and create an unacceptable amount of noise. The government has responded to this by encouraging the building of 'offshore' wind farms.
Wind Energy in the U.K. and Europe
In conjunction with E.U. and U.N. law, the U.K. aims to have 10% of our total electricity supplied from renewable sources by 2010. The Department of Trade and Industry argue that the key to reaching that target would be to build offshore wind farms. In doing this we could harness the huge amount of wind energy that Britain is lucky to have as a natural resource. The Energy Act of 2004 sanctioned the development of large-scale offshore wind farms, within agreed territories.
The British Wind Energy Association (BWEA) argues that 10% of all U.K. energy could be generated through wind power, using an area of the sea no bigger than London.
North Hoyle was the first site in operation, and was up and running in December 2003. Scroby Sands and Kentish Flats followed this over the next two years. This first phase of development includes a further 12 sites already accounted for, with 15 more to be built under phase two of the project.
Wind energy is beyond a doubt the main focus of the governments renewable energy programme, and is popular with industry, with a wide range of companies investing in the development of offshore energy. It is also the most efficient and practical form of domestic renewable energy for most home suppliers. However, planning permission may need to be sought before a small-scale system can be installed.
In March of this year the E.U. pushed further towards agreeing a common renewable energy policy for Europe, hoping to set stringent targets for the production of renewable energy by 2020. Environmental pressure groups welcome this move, but urge that more be done to generate our electricity from wind power, which is clearly, for many European companies, the most viable directly renewable source of energy available. With running costs rapidly falling, and efforts being made to reduce the noise that wind systems produce, it is inevitable that wind power will become a major contributor to the U.K. energy supply.
Denmark, Germany and Spain currently lead the world in wind energy production, with approximately 25% of Denmark's, 10% of Spain's and 5% of Germany's energy coming from wind generators. The largest offshore wind farm in the world operates off the south coast of Ireland, another valuable resource for wind energy.
It is argued, that 60% of the entire wind energy supply for Europe could be harnessed by the U.K. alone. In conjunction with countries such as Ireland and Denmark, and as part of a Europe-wide strategy it may be possible to work in tandem with other sustainable energy supplies, such as solar and tidal energy to eradicate the need for conventional power stations altogether.
You might also like...