Tips & Advice on Generating Your Own Energy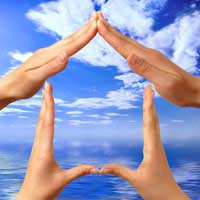 Generating your own energy is one way to make a significant contribution to a sustainable environment. Whilst there is an initial outlay in setting up a solar, wind or hydro energy system, help is at hand to reduce costs and advise on installation. Specific information on the three main forms of generating energy can be found in the relevant related articles.
Funding Your Energy System
The Energy Saving Trust is the main government funded resource supplying help and advice on saving energy around the home. The trust operate a number of schemes to promote sustainable home energy systems, including making sustainable energy affordable. With both nuclear and fossil fuel power stations due to close in large numbers over the next fifteen years pressure is on both the government and fuel suppliers to provide alternative ways of supplying energy to the national grid. In light of this, the installation of sustainable energy supplies is actually beneficial to energy supply companies, who, under government law are compelled to help promote such systems. In turn, these systems can, at times, provide enough energy to be sold back to the national grid, both saving the customer money, and helping power supply companies to meet their sustainability targets. This scheme, called the 'Energy Efficiency Commitment' (EEC) has been successful during its first phase (2002-2005) and will be stepped up for the 2005-2008 period. Under the EEC, 50% of funds granted to individuals who wish to install renewable energy must go to people who are in receipt of certain state benefits. This means that renewable energy is promoted to those who will most benefit from the long-term financial savings, and who may not otherwise have been able to switch to renewable energy sources.
The government and some local authorities also run grants to help with the costs of installing sustainable energy systems as part of their obligations to help reduce harmful carbon emissions.
Not for profit organisations such as the 'Green Energy Centre' also help with funding and advice for domestic energy users and businesses wishing to install their own sustainable energy supply.
Home renewable energy generation is set to become commonplace over the coming 20 years, with some sources claiming that up to 40% of our energy could be supplied in this way by 2050. The initial cost can be reduced, or eliminated even, through the grant schemes mentioned above. Savings (detailed in the relevant sections for each separate energy form), accumulated over time will amount to genuine financial gains.
Most people can benefit from the installation of solar and wind systems, whilst those fortunate enough to have running water may benefit from a hydro system. Having a combination of systems will allow you to maximise your energy efficiency, and with one or more systems you will be able to generate from 20% upwards of your energy needs from sustainable sources.
You might also like...