How to Make the Most of Rainwater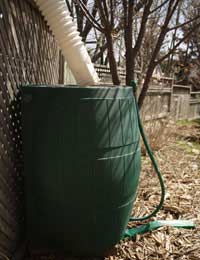 Now that virtually everyone with an environmental conscience is trying to save energy and precious resources, conserving water is a must.
If you have a water meter installed, you are probably paying more than you need to for water - when you could be collecting rainwater and re-using it. This will save you money and help to save the planet as well!
Collecting rainwater is a very easy process and if you decide it's a worthwhile thing to do you can purchase rain barrels and purifiers. (Before buying a waterbutt or barrel from a commercial outlet, check with your local water company since many sell them at subsidised prices.)
Collecting Your Rain
The simplest way to collect rainwater is to use an old bin or other large container. Place it under your guttering downspout so that the water runs down the pipe and into your new rainwater container. You can also use smaller containers which are lighter and easier to move. These can be swapped on a regular basis for tasks such as watering your plants.
Given some thought, you can probably come up with a few ideas for rainwater yourself but here are just a few ways in which you can reduce the amount of tap water you use:
Use collected rainwater to:
Wash the car
Clean and wash down the driveway
Wash or rinse your hair
Rinse handwash-only or delicate garments
Water pot plants inside
Water the lawn and garden plants
Top up the garden pond in hot weather
Flush the toilet
Wash your windows, the walls of your house and garden furniture
Saving your rainwater also means the kids can have fun with water – without you worrying about the cost involved. Use it to fill up their water guns and small plastic containers for the best water fights ever or make your very own ice sculptures (More details below)
Research has shown that plants actually respond better to rainwater than tap water because rainwater is naturally filtered and doesn't contain the minerals or chemicals that you find in tap water. And it makes a great hair rinse but remember that you will need to filter it somehow, otherwise you will find leaves and other debris floating around. It is a good idea to attach a piece of cheesecloth or gauze to the end of your guttering pipes. This helps to prevent dirt and leaves collecting in your water.
If you decide to buy a rain barrel, look for one which incorporates a screen to prevent leaves and debris from entering the barrel. Some barrels also have a tap which makes it easier to fill up your watering cans etc.
Create Ice Sculptures
Making your own ice sculptures from frozen rainwater is really easy and fun to do all year round. (It's a good idea to do this outside as it can be quite wet and messy.)
All you will need is:
Rainwater
Containers
Gloves
Table salt
Food colouring
A few days before you want to make your sculpture, freeze the rainwater in several different sized containers inside a chest freezer. (If the weather is cold enough, you can leave the containers in the garden until the water freezes.) Once frozen, remove the ice from your containers and put them on to a flat surface. Add simple table salt to the ice and watch it stick the blocks of ice together. Use old tools such as a chisel, screwdriver, mallet and slow-speed cordless drill to create your masterpiece.
If you have lots of ice, get a few friends together and try to make a huge group effort ice sculpture. To add interest for children, you can add some food colouring to the rainwater before you freeze it. It's great fun – but always make sure you follow careful safety precautions such as wearing goggles and ensure that children are closely supervised at all times.
You might also like...
It's awfull because im Dr Strange & Dr Maniac
Dr Maniac
- 13-Nov-16 @ 12:11 PM