Reduce Carbon in Your Food Preparation & Cooking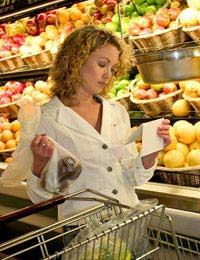 Carbon and other forms of gases that can contribute to planetary warming and climate change that damage the environment and health, are inherent in food growing, rearing, and production, and are the opposite of green values and sustainability. From chemicals in the form of fertilisers, fungicides and pesticides put into soil or added to water, through to carbon created in packaging the food, be it plastic bags, plastic containers.
Transporting the food from the producer to the shop, with possibly many other stages between these, such as a distributor or a shipper or handler, as well as then how the food gets from the shop to the consumers kitchen and plate; all these stages of movement and handling also create carbon.
If a certain type of food, say bananas from Indonesia, or lamb from New Zealand, is flown from the grower countries to a major supermarket supplier in the UK, then this transportation creates an excess of carbon, that needs to be taken responsibility for, by both the distributor and the consumer. To encourage more green cooking in the home, food organisations such as The Soil Association are now bringing this important issue to the general public's attention.
How to Reduce Food Miles when Shopping
The process of transporting food has been referred to as 'food miles', and the emphasis in media campaigns has been both to pressure distributors and supermarket chains to reduce these, and also to educate the public to the damage that buying food that has been transported over many so-called food miles, can do – to both the environment, and to human health through air and water pollution. Shopping with an eye on the sustainability of our food is the key to green cooking, and preferably using organic foods.
Green cooking is about improving health (and that of the environment) by using organic foods, and supporting small scale local producers.
For consumers, this is the focus of the 'shop local' green campaign that encourages consumers to try to buy food that has been grown or produced in their local area. For most people in the UK, local farms can provide much of the raw fruits and vegetables that make a healthy diet.
This may not be so easy sometimes with meat producers, as they tend to operate on a large scale, in centralised units. But small organic whole food shops should be able to source local meat and fish suppliers. Other options include getting a local vegetable box delivered to your home from a local supplier, or asking The Soil Association about local options.
Other options include requesting a supermarket as an individual or as a community to emphasise locally grown produce. By supporting local farmers both the contribution to greenhouse gases goes down, and the financial contribution to the local economy goes up, so everyone eventually feels the benefit. This is a part of the switch to organic foods that is underway across the UK and around the world. It is about the sustainability of the food that we eat, and the networks we as humans create around us.
SUSTAINABLE STUFF IS FOR SALE.
This website is for sale [more info].
You might also like...